In My Record Collection, we dig down to the bottom of musicians' souls to find out what the most treasured parts of their record collection are. This week, it's the turn of singer-songwriter Wallis Bird. Let's see what she's got in store for us...
In My Record Collection, we dig down to the bottom of musicians' souls to find out what the most treasured parts of their record collection are. This week, it's the turn of singer-songwriter Wallis Bird. Let's see what she's got in store for us...
The first record I ever bought with my own money was…
"An artist from my hometown called Clive Barns. It was his album Shine. He taught me my first guitar lesson so he meant a lot to me. He was 19, I was eight..."
The record that made me want to be in a band was…
"Has to be Rumours by Fleetwood Mac. All the different voices, the stories, the truth, the discord and all through that their connection transcended through their band bond. At a young age, I was drawn into that in a way that was different from other bands. The gentle deep sadness of it."
The record I've played more than any other is…
"It's probably a tie between Living In Clip by Ani DiFranco or The World In A Grain Of Sand by The Magic Lantern."
The record that always makes me feel good is…
"Buena Vista Social Club. This record brings me back to being 19, with my sister Tamara having a wonderful family seafood BBQ in Galway. My sister and I went into a record shop to look for some Cuban music to suit the fabulous dinner we were about to cook, and she wanted the music to be just right. So I chose this album for her. I hadn't heard it myself but my friend had been waxing lyrical about it, so I said "let's try it"."
"It was a lucky shot. But the album is so steeped in life experience, so much trust, so much lust and vigour, it is one of the most incredible feats in modern culture recordings, so of course we dove deep into it, and hat night we played it over and over and over for hours. 10 years later and there we are, Tamara and I watching them live in Galway, hugging each other so tightly, both crying our eyes out with joy. Life was good. This album makes me feel instantly loved."
The record I turn to when I'm feeling down is…
"Massive Attack's Mezzanine. I find it to be such a beautiful darkness. The sheer intimacy of tone in the opening track 'Angel' just feels like I'm falling into a tank of oil. It's dangerous and whisperingly so. And from start to finish, you're engaged, get lost, get sucked back in again with and by the end, I feel absolutely wrecked."
"Tt's perfect to reflect my darkness, I always feel like I've come out of it alive, somehow reborn. For that reason, I tend not to listen to it too much, at least once a year gives me the full effect I need, when the time is right."
The record I think is the most underrated of all time is…
"'Whammy!' by B-52s. It's a brain-melting relentlessly aggressive, disconnected weirdo record that I'm always playing for people. It was recorded in the Bahamas with a bottomless budget for tape and cocaine. I'd go so far as to say it's a psychotic album."
The record with my favourite cover art is…
"Probably Tool's Lateralus. That whole artwork was inspired."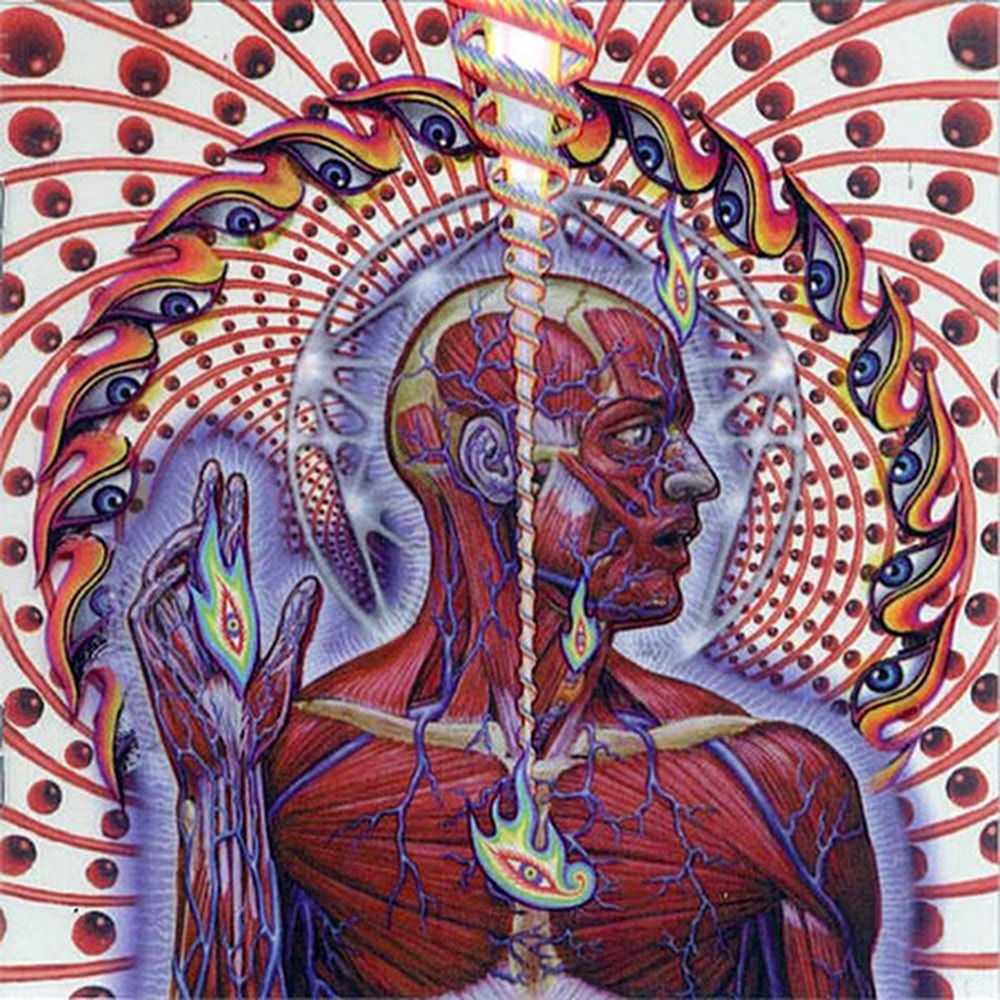 8) The record with my favourite title is…
"It is When The Pawn... by Fiona Apple. The entire title is: 'When the pawn hits the conflicts he thinks like a king
What he knows throws the blows when he goes to the fight
And he'll win the whole thing 'fore he enters the ring
There's no body to batter when your mind is your might
So when you go solo, you hold your own hand
And remember that depth is the greatest of heights
And if you know where you stand, then you know where to land
And if you fall it won't matter, cause you'll know that you're right'
I never really quizzed the title, I just liked the fuckery of it. Labels would have to deal with it, she must have had to fight to get it through, then the fact that Apple zealots would learn the whole title off, to look cool- there was just a lot to like about that title. That and the album was an absolute knockout."
The record I can't understand why everybody loves is…
"Adele's 25. I know she's special, there's no question about it, but I just felt this album sided with the 'sellable' story that worked on her previous record. I didn't believe the heartache."
The last record I bought was…
"Homotopia by Sam Vance Law. This is a friend of mine whom I'm absolutely obsessed by his music. I loved his music before we became friends and bandmates. His music is something I need and I feel the world needs too so I'm a huge advocate of his work. It is opulent, classical, pop, jazz opus of derogatory, self-critical, peerless and adventurous Gore Vidal lyrics meets The Cure musicianship. Cracker."
The record I'm most looking forward to hearing in 2020...
"Sam Vance Law's next record! He's just finished demo-ing the new record and he played it for me a couple of weeks ago, and I actually liked it as much as Homotopia so I'm absolutely in wait for that."
The greatest record of all time is…
"It is either Vespertine by Björk or Paul Simon's Graceland."
"Vespertine is sublime. For me, it's something that if aliens came down to earth, asking to show them what their farthest-reaching living being is, artistically, Björk would be the representative. She's the closest thing we have on this planet to a celestial being, a physical goddess and an alien. And this album showcases all her ability to take a formulaic pop song to its perimeter, while also taking it further, in the most subtle and caring and dauntless, fuckless way."
"This album is full of simply beautiful modern sentiments and instrumentation. So rooted in air, so anchored to virtuosity."
"Graceland is just faultless. Because of its sentimentality of travel, and it's immediacy of storylines, it's character building, it's a cultural celebration, it's fun and playful and pure and honest lyrical work, blended with what feels like just the most effortless and fun studio sessions (though you know it most likely was a Labour of love) love just emanates from this record. If that's what he was looking for, that's what came out."
Wallis Bird's new album Woman will be released on September 27th.