With our vinyl exclusives landing in stores soon, we take a look at some of the most weird and wonderful wax ever produced...
As part of hmv Vinyl Week you'll soon be able to get your hands on some exclusive, limited edition coloured vinyl in our stores, helping you to add some rarities and a splash of colour to your record collection.
In the grand scheme of things though, coloured vinyl is hardly the most unusual variation on vinyl records and over the years there have been plenty of weird and wonderful ideas etched onto vinyl, or even other materials entirely. In Soviet Russia, during an era when Western music was prohibited, some enterprising Russian music-lovers took to printing bootlegs of records by their favourite Western artist by printing homemade flexi-discs onto discarded hospital X-rays.
In more recent years, labels such as Jack White's Third Man Records have specialised in creating limited edition vinyl runs featuring everything from vinyl injected with liquid to a record designed to play back at just 3rpm. So with hmv Vinyl Week about to get underway, we thought we'd have a little fun and dig up 10 of the weirdest records ever made...
Breakbot: 'By Your Side'
French producer / DJ Thibault Berland, better known as Breakbot, released a 2012 single 'By Your Side' that was noted for its animated music video directed by Irena Dakeva, but even more notable was the decision to issue a limited run of 7" singles pressed onto chocolate.
Only 120 copies were ever made and Ed Banger Records, Breakbot's label, issued the record along with the helpful advice "play it before you eat it". Presumably it's quite a difficult thing to store, and it was only ever designed to be played once, but it does actually play back on a turntable and sounds better than you'd imagine. Still, we'd bet it tastes even better...
The Durutti Column: The Return of The Durutti Column
Manchester band The Durutti Column were one of the first acts signed to Tony Wilson's Factory Records label, home of Joy Division and Happy Mondays, among many others. Their ironically-titled debut album The Return of The Durutti Column was one of the label's earliest releases and the vinyl edition became infamous not for the record itself, but the sleeve it was packaged in. Made with a sandpaper exterior, the sleeve was designed to gradually ruin the other records in your collection by abrasively rubbing against them.
Because there were no printing facilities with the capability to mass produce them, each one of the 2000 sleeves had to be made by hand. Even more bizarre is the fact that the person responsible for doing this was none other than Joy Division frontman Ian Curtis, who took the job on for some extra money when the band were cash-strapped. As legend has it, he sat on the floor assembling the sleeves by hand while the rest of the band sat in the same room watching porn, of all things.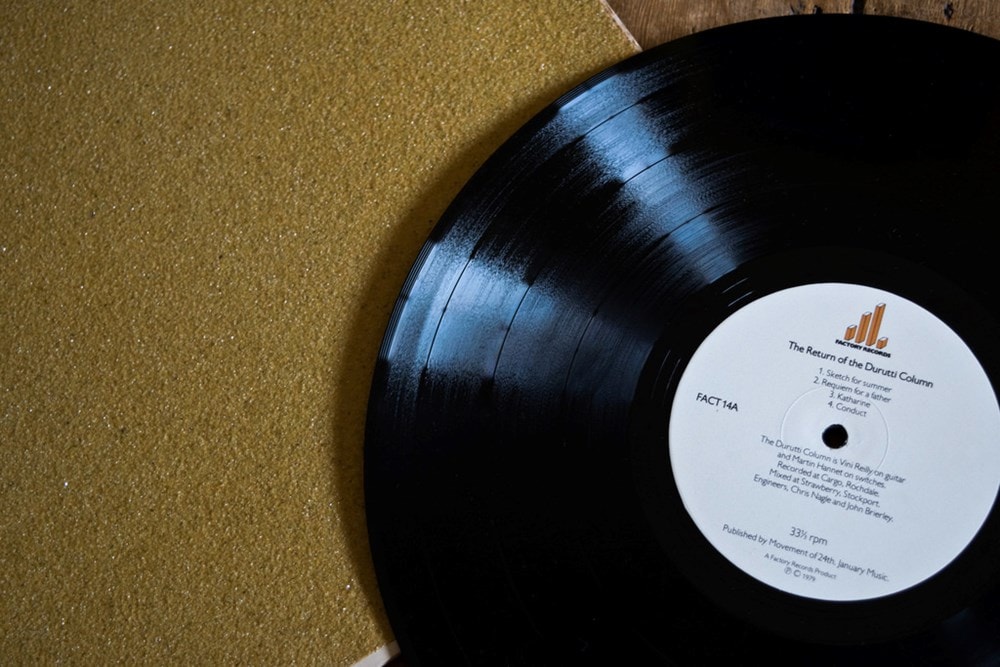 Lemon Jelly: 'Soft/Rock'
Another record with an interesting sleeve was Lemon Jelly's 2001 single 'Soft/Rock', pressed onto 7" blue vinyl and housed in a hand-stitched denim sleeve made from pairs of Levi jeans. As an extra touch, each of the 1,000 copies pressed also arrived with a flavoured condom hidden in one of the pockets, and an even more limited version comprised featured embroidery and a business card for award-winning British embroidery artist Laura Lees. Originally, the plan was to issue all 1,000 copies like this, but production proved far too expensive and time-consuming, so the design was simplified for the rest of the run. The embroidered versions are extremely rare and are thought to be worth several hundred pounds each.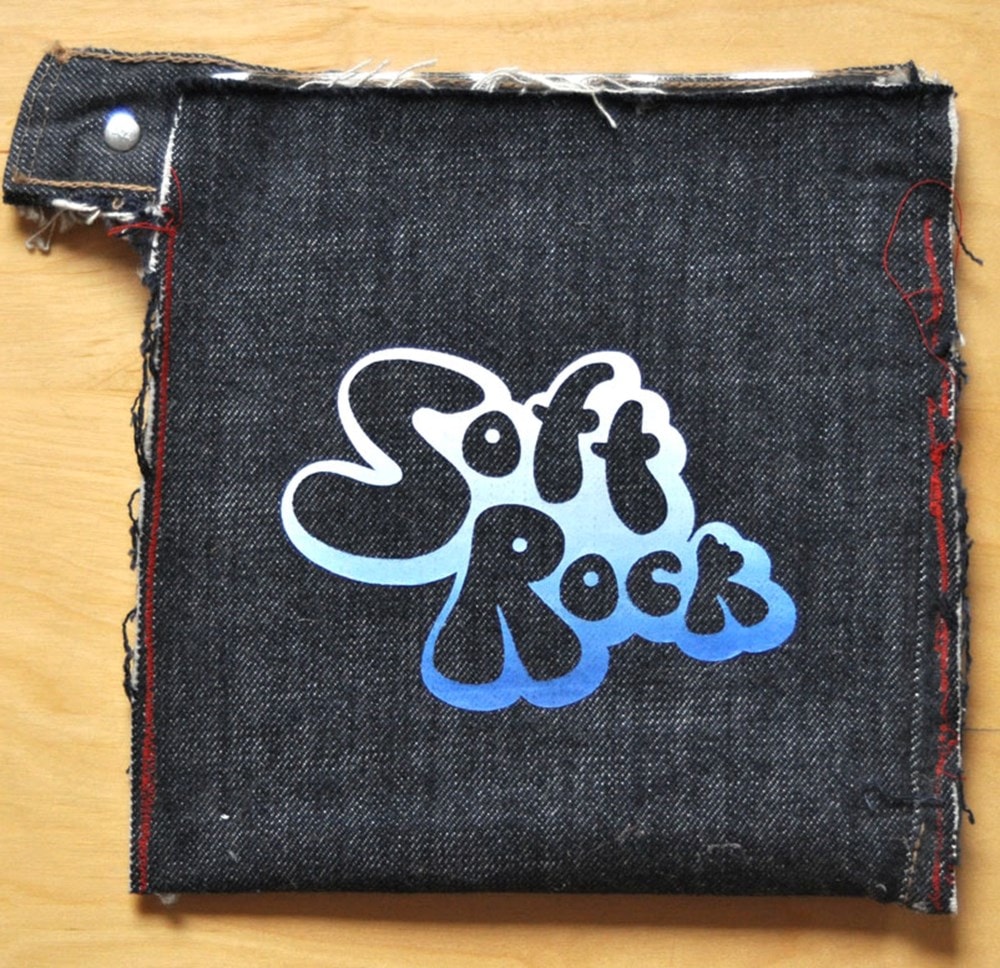 Slightly Stoopid: 'Dabbington'
Edible records are one thing, but how about a smokable record? Well, that's exactly what San Diego's Slightly Stoopid set to create when they decided to press their instrumental track 'Dabbington' onto a record made entirely of marijuana resin. Using $6,000 worth of bubble hash, the band and their label Silverback Music created a test pressing in January this year, although after two tests they still haven't quite mastered the technique: they described the resulting sound as 'passable', but hope to create a more listenable version later in 2017.
Shout Out Louds: 'Blue Ice'
Swedish band Shout Out Louds added a DIY element into the mix with their 2013 single 'Blue Ice' when they issued a make-it-yourself kit with a set of instructions on how to create a playable 7" version of the single out of ice. The kit included a bottle of water and a mould which, when frozen, printed the grooves onto the back of the ice disc ready for you to pop onto your turntable. Only 10 kits were ever made and issued to lucky fans via a competition through Merge Records' website.
Bonobo: 'Cirrus'
In the years before modern film cameras were invented there were several devices invented in Victorian times which displayed 'moving' images, one of which being a contraption called a zoetrope, involving a rotating disc or cylinder with several still images which, when rotated quickly, produced the illusion of motion. Several artists have used this idea to create vinyl picture discs using the same principal and one of the best examples arrived in 2013 with Bonobo's single 'Cirrus'. The disc is printed with hundreds of tiny images, producing an animation effect when played on a turntable. Check out the clip below to see the effects...
The Flaming Lips: Heady Fwends
Wayne Coyne and his band have a reputation for weirdness and innovation, so it shouldn't come as a surprise to find them on our list of weird and wonderful vinyl. Their 2012 covers album Heady Fwends featured a laundry list of collaborators and even though the regular vinyl edition was itself a limited run of 10,000 copies, an even more limited run of 10 copies was produced and while vinyl records injected with liquid have been produced before, The Flaming Lips took things one stage further by injecting their own blood into the records. Each copy sold for $2,500, with all the proceeds going to charity, and contained the blood of several of the album's collaboartors, including Nick Cave, Coldplay's Chris Martin, Erykah Badu, Sean Lennon and Bon Iver's Justin Vernon.
Eohippus: 'Getting Your Hair Wet With Pee'
If you thought injecting blood into vinyl records was pretty disgusting then you might want to skip past this ultra-limited run of 7" singles by Pittsburgh's resident jazz weirdos Eohippus. Their 2014 single 'Getting Your Hair Wet With Pee' included a run of vinyl records infused with samples of the band's hair. Not only that, the record's jaundiced yellow colour was produced by infusing the vinyl with their urine. A copy of the 7" can fetch up to £45 on ebay, but frankly this is one record that your collection can probably do without. Bleurgh...
Emperor Yes: An Island Called Earth
Not to be outdone by the likes of The Flaming Lips and Eohippus, London's psychedelic pop purveyors Emperor Yes released a coloured vinyl edition of their 2014 debut album An Island Called Earth that was infused with dust from an actual meteorite. Not surprisingly, given the difficulties of obtaining asteroid dust, the run was limited to 100 copies, but there is a standard green vinyl edition that is a little easier to get your hands on.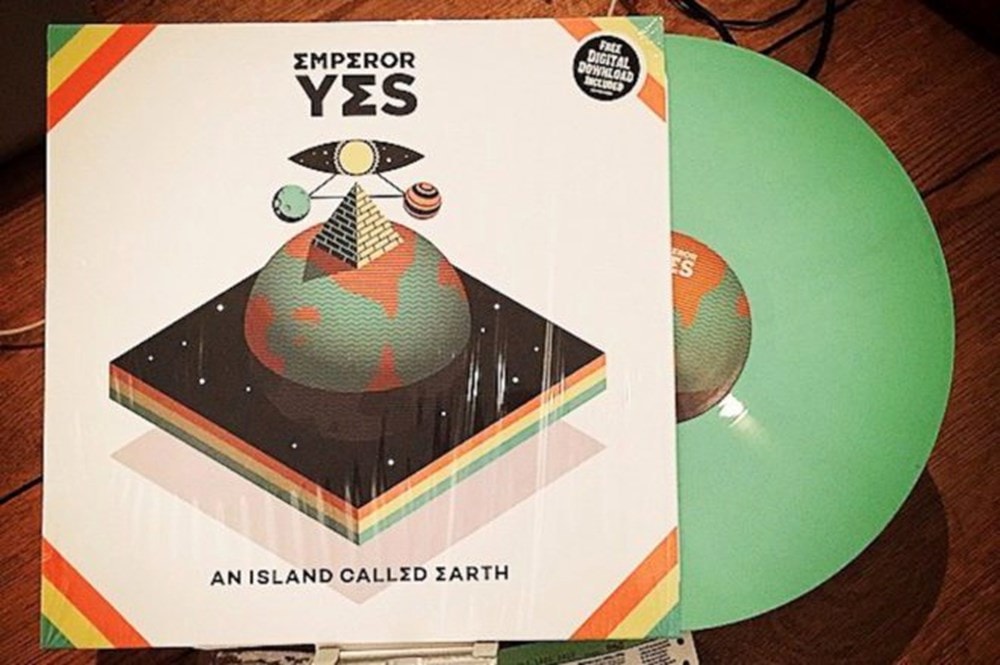 Ray Parker Jr. / Run DMC: 'Ghostbusters'
Breakbot might have the tastiest vinyl on our list, but does it smell as good as this? In 2014, to celebrate the 30th anniversary of Ivan Reitman's much-loved comedy sci-fi film Ghostbusters, Sony Music issued a limited edition 12" double A-side single featuring the film's theme tune, by Ray Parker Jr., and the 'Ghostbusters Rap' song by hip-hop legends Run-DMC that featured in its sequel. The 30th anniversary edition was pressed onto glow-in-the-dark white vinyl – nothing too weird about that, you might think, but the 12" was also scented to smell like marshmallow in tribute to the film's sweet-tasting villain, the Stay-Puft Marshmallow Man.